U.S. Clinical Experience with Falcon Advanced Neurology & Epilepsy Freedom Center in Orlando, FL, USA.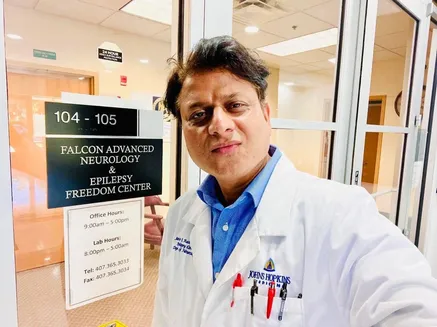 At Falcon Advanced Neurology & Epilepsy Freedom Center (FANEFC) in Orlando Florida USA, we provide comprehensive and exceptional neurology clinical experience under the guidance of triple board certified neurologist Dr. Jaivir S. Rathore, MD, FAES, who is trained at some of the top medical centers in the US; including The Johns Hopkins and The Cleveland Clinic and published in a Harvard journal as a lead author on an NIH funded study, who also serves on the reviewer's panel of the journal of the American Academy of Neurology and the Royal College of Physicians of Edinburgh (UK) and the current Co-Chairman of the Epilepsy Foundation of America's Florida Chapter. With Dr. Rathore's extensive experience as a former Chief Epilepsy Fellow and adjunct teaching faculty at the Johns Hopkins Neurology Residency Program in Baltimore, Maryland US; we create educational equality by arranging U.S. clinical experiences (USCE) for international medical students and graduates (IMGs). We believe that IMGs play an important part in improving the U.S. healthcare system and global health at large.
Clinical experiences are essential for those pursuing a career in U.S. healthcare. These real-world experiences can cultivate valuable medical, professional, and communication skills. Such educational opportunities can also provide clinical knowledge and skills that may be useful when taking the USMLE Step 2 CK, CS and Step 3.
The clinical experiences are flexible and can be 4 to 12 weeks of Neurology Pre-Residency Training (NPRT) program with an option of non-accredited Epilepsy Mini-Fellowship (EMF) of 3 to 6 months. We can work with you to create a longer experience should you need one. Our clinical experiences are offered year-round at our three locations in Orlando and The Villages Florida U.S This is a comprehensive neurology clinical experience with special emphasis on epilepsy including rotation in epilepsy monitoring unit (EMU) with training on EEG reading, interpretation, polysomnography at our American Academy of Sleep Medicine accredited Sleep Center. The rotations at two of our clinics in The Villages (The largest retirement community in the world) provide a unique experience of geriatric neurology. The Epilepsy Mini-Fellowship (EMF) candidates if selected may qualify for 1–2-week epilepsy neurosurgery clinical observership at the prestigious Mayo Clinic Jacksonville, FL, US.

To find out how you can secure a clinical experience with us, continue reading below.
Applying for a US Clinical Experience:
1. Eligibility
The international medical students and graduates (IMGs) are eligible for clinical experiences with FANEFC. Current medical students are eligible for hands-on clinical neurology elective. Medical school graduates who wish to do hands-on clinical experience of Neurology Pre-Residency Training (NPRT) program must have passed USMLE Step 1. Those who wish to do the coveted Epilepsy Mini-Fellowship with potential Mayo Clinic rotation, must have completed the NPRT program of at least 2 months duration at FANEFC.
2. Submit an Application
Once you find a clinical experience that meets your need and interests, simply decide on the rotation start date/month and the type of experience you are applying to (i.e., Pre-med shadowing/observership, medical student elective, NPRT or EMF). Once you have decided the rotation type and time, email your request to center admin at: [email protected] with your updated CV, a one-page personal statement as to why you want to do this neurology rotation or epilepsy mini-fellowship.
3. Await Approval
Once you have emailed your application, it will be processed and you will receive a notification if you have been accepted in as little as 3 to 5 business days. If accepted you will be notified via email. This email will include instructions on how to reserve your seat and begin the enrollment process.
4. Reserving a Clinical Experience
The total tuition fee for the clinical rotation is US $1500/month (excluding any bank wire transfer fee). Once accepted into your clinical experience, you'll be asked to submit the full payment or at least non-refundable down payment of US$500 for your experience. The down payment reserves your seating, ensuring another student interested in the experience cannot fill it given the limited spots available every month. The remaining balance if any; for the clinical experiences can be paid later but at least 30 days before the program start date.
5. Falcon Academic Excellence Scholarship
Based on candidate performance during the two-month NPRT program who wishes to do and are selected for the Epilepsy Mini-Fellowship, FANEFC may offer scholarship to eligible outstanding candidates by waiving 100% of the tuition fee worth $4500.
6. Visa Assistance and Logistics
Should you need a letter for procuring U.S visa, there may be an additional documentation fee. Such visa assistance letters are only provided after the clinical rotation fee is paid in full.
In addition to reserving your seat, submitting the down payment for your clinical experience lets you begin the enrollment process. At this point, we will go over required enrollment documents (including vaccination record especially for Covid-19, TB etc) and help you get oriented for your time in the U.S. Any questions or concerns you have about the experience will be answered.
Depending on the type of experience you reserve, you may need to find housing, and explore transportation options. If requested; FANEFC may provide complementary transportation to some of the candidates based on availability. We will also provide suggestions on these items, making planning your experience even easier.
7. Certificate of Training and Letters of Recommendation
At successful completion of the clinical training program, a certificate of completion will be provided. If requested; a letter of recommendation may be provided either to the candidate or if the right to view is waived, directly to the residency program.

8. Residency Application and Interview Guidance
If the rotating person is planning to apply for US residency programs and requests assistance, that may be provided including but not limited to help with personal statement, networking, interview tips, pre and post-match strategies etc.
Follow us on Instagram and LinkedIn!